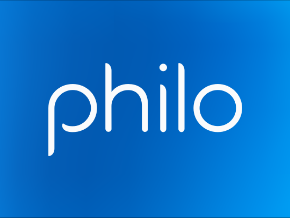 $20 / month
Live & on-demand TV for just $20/month. Philo is a live TV streaming service that offers 59 popular cable TV channels, a large selection of on-demand shows and movies, and unlimited DVR storage for a budget-friendly price.
Watch live TV, record your favorite shows, and stream on-demand series and movies from AMC, A&E, BET, Comedy Central, Discovery, The Hallmark Channel, HGTV, Food Network, MTV, Nickelodeon, and more (Full channel list below)

Philo is TV your way. Stream your favorite shows and channels on all of your devices, at home or on the go. Pause live TV, start live shows from the beginning, and fast forward through commercials on all of your DVR recordings. Unlock more on-demand shows and movies in over 30 network TV apps with your Philo subscription at no extra cost.
More Philo features:
● Live TV Guide
● Favorite channel settings
● 30-Day DVR with unlimited storage
● 10 user profiles
● Watch on 3 devices at the same time
● Start your free trial without a credit card
Not sure Philo is right for you? Let us help you find the best TV streaming services for your needs by visiting our home page at MyBundle.TV to select the channels and features you want, find and compare streaming services that best match your selections, and read user reviews.
Devices
Channels
Ready To Sign Up?
Click below to sign up for the service on their site
Ever used Philo? Leave a review